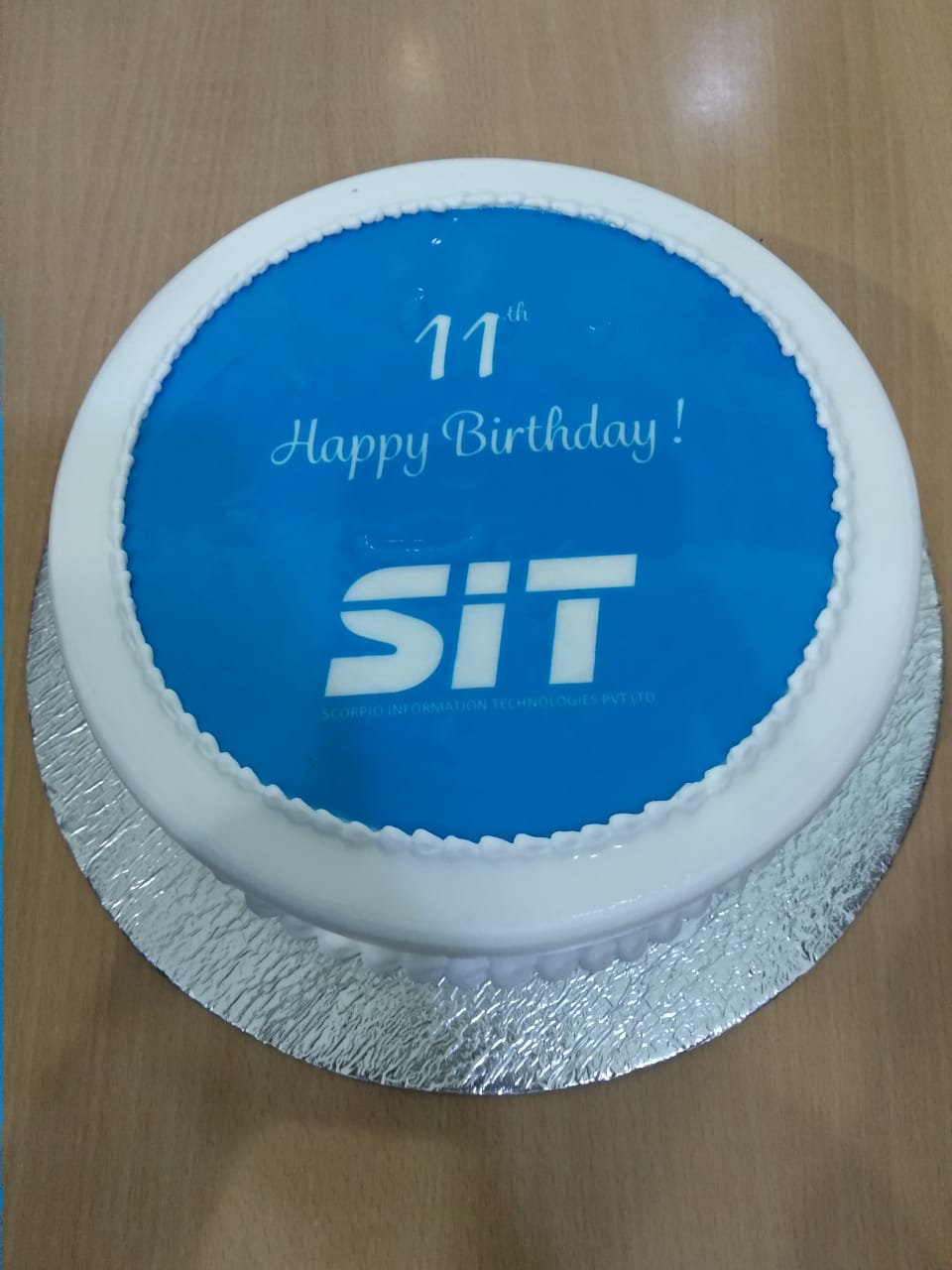 As we are aware, We have completed 10 years in the IT industry on the 5th of April 2019. I heartily congratulate our Director, Mr Hardeep Singh and Scorpions. We feel blessed to be a part of SIT. So to make it memorable, The day is set to be full of surprises and games.
We had a party at the office with all the scorpions on 5th April 2019 where all scorpions show their respect towards sir with flowers and balloons. Everyone was excited and they described their journey in their words with SIT. After listening to everyone, our Director shared his kind words with scorpions how he stood and how he completed his 10 years of the journey which automatically motivate the employees for their future. In the end, he congratulated us and gave us best wishes for our future.
CAKE CUTTING & GIFTS CEREMONY
On that day, we had lots of fun with games and enjoyed refreshment. We have a Cake, that was fully decorated with SIT logo and cut by Mr.Hardeep Singh, Mr Harjot Chopra and Mr Nikin Rawat for the success party of Scorpio Information. It was a wonderful day which creates some awesome memories with scorpions.
We had ended that day with smiles on faces and hope of a great future with SIT. We all shared the dance floor with high volume music beats. Party was over that day but it left beautiful images on every mind and heart. Thanks to all to make that day unimaginable with their efforts. We tried to capture that moment on camera.

Night Party at Blue Ice Sector 17
As everyone knows, our director Hardeep Singh is a very positive and inspiring leader. We thank him for the opportunity he gave us and the belief he showed on us for every professional task. He is amazed by nature and his heart. His inspiring talking made us more powerful and dedicated to our work.

We cannot tell him how much thankful we are but we tried to tell him with flowers and trophy as a good boss.
We wish him he stays happy and his life always having a fragrance of flowers.

Dance Performances

Punjabi's are all time famous for their dance. So, Here are the Scorpions who are who are very much interested in dance and having skills to perform.So, our scorpions performed well and shared their happiness with us as a part of SIT.

Modelling

Girls love to do Modeling after wearing their Beautiful Dress. SIT girls gave goosebumps to everyone at the party with their modelling moves. Check it out the pictures.

Award Ceremony

Most Important Part of Party is Award Ceremony. How can we forget to appreciate the hard work of scorpions did to make the SIT reliable and successful. Every award is dedicated to the candidate as per their performance for SIT.

The Awardees are:
a) Constant Contributor: Mr Harjot Chopra, Mr.Amit Awasthi
b) Fast Starter: Ms Nancy Garg
c) All For One, One for All: Mr Nikin Rawat
d) Star Award: Mr Maninder Singh

Gifts Distribution

After awarding all the deserving candidates, we were distributed the gifts to candidates as per their performances. The luckiest scorpions are:
Best Dress at Party: Nancy, Mandeep
Best Bhangra Performance: Gurpreet Singh
Surprise Performance: Sunita
Appreciation Performance: Vishal, Atish

We thank every newcomer and the old ones for their time to be part of our success party.